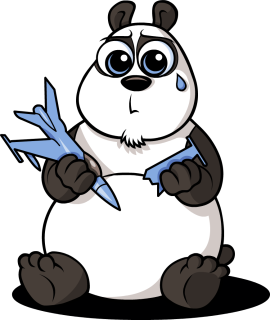 Yes, you heard it right ladies and gentleman! Sad Panda Games is now officially up and running, ready to take your orders.
I've gotten an account set up with a games distributor, and am now able to begin placing orders.
No matter what your interest is, whether it be Games Workshop, Privateer Press, Card Games, Board Games, I can order it for you.
I'll be working out a pricing structure over the weekend, but I can confirm 25% off retail, with some additional form of discount for larger orders.
I will be out at The Barn this evening, although fairly late as I have to bartend until about 11pm-12am or so. Feel free to use this thread for any questions, or you can PM me as well.
Below I will place a list of all the different companies products that I can order for you.
Brian
Quote:

12 to Midnight
3 Sages Games
3AM Games
93 Games Studio
Abstract Nova
Academy Games, INC
Action-Sports
Adrenaline Games
Advanced Primate Entertainment
Agman Games
Alderac Entertainment Group
Alien Menace
Alimat srl.
A-List Global Media LLC
Amarillo Design Bureau
Amigo-Spiele
Anansi Games
Arcane Tinmen
Archaia Studios Press
Army Painter
Asmadi Games
Asmodee Editions
ASSA Games
Atlas Games
Atomic Overmind Press
Avalanche Press
Bandai
Battle Bunker Games
Battle Foam, LLC
Battle Front Miniatures
BC Games
BCW Diversified
Bedrock Games
Bergsala Enigma A/S
Bezier
Bezier Games
Big Finger Games
Biosilo Foods
Black Rock Editions
Black Wyrm Games
Blackclaw Games
Blue Kabuto
Blue Orange Games
Blue Panther
Board 2 Pieces
Bonfit America
Bounding Fire Publishing LLC
Brave Halfling Publishing
Bucephalus Games
Buffalo Games
Burning Wheel
Cactus Game Design
Cafe Games Limited
Caledea, LLC
Cambridge Games Factory
Candlewick Press
Card Sports & Entertainment
Card Stadium
Catalyst Game Labs
CCP Games
Cepia
Chaosium
Cheapass Games
Cheese Weasel Logistics
Chessex Manufacturing
Choose Games
Chukerman Packaging
Cipher Studios
Clash of Arms Games
Cold Creek Publishing
Comfy Chair Games
Compass Games
Compound Fun
Conquest Gaming
Continuum Games
Cool Mini or Not
Crafty Games
CrossCut Games
Cryptozoic
Cubicle 7
Dan Verssen Games
Dark Age Games
Darkson Designs
Dead Gentlemen Productions
Decision Games
Degra Miniatures
Discovery Bay Games
Do Gooder Press
Dork Storm Press
Eagle Games
Eden Studios
Emerald City Expeditions
Enigma Miniatures
EOS Press
Erisian Entertainment
Evil Hat Productions
Excalibre Games
Exile Game Studio
Expeditious Retreat Press
Extreme Fight Games
Face 2 Face
Fantasy Flight
Fantasy Productions
Fantization Miniatures
Fat Dragon Games
Fiery Dragon Press
Fireside Games
Fluid Entertainment
Flying Buffalo
Flying Frog Productions
Fred Distribution
Fun Fair Games
Fundex
Gale Force 9
Gallant Hand Gamers Gear
Game Source International
GAMEPLAYWRIGHT
Gamer Ingenuity
Games Workshop
GameStation
GameWright
Gamewright
Gaming Etc
Gaming Paper
Gary Games
Giant in the Playground
GIANTmicrobes
GiftTRAP
Glowfly Games
GMT Games
Goblinoid Games
Gold Brick Games
Golden Laurel Entertainment
Goodman Games
Gorilla Games
Gozer Games
Green Ronin
Grey Ghost Press
Greymalkin Designs
Gryphon Forge LLC
Gryphon Games
GT2 Fun & Games
Gut Bustin' Games
Harcos, Inc.
Hasbro
Heat of Battle
Hero Games
Herobits Corp.
Hidden City Games
HighlanderTCG
HinterWelt Enterprises
HL Games
Home Lantern Games LLC
Human Head Studios
Hyperion
Impressions
INI, LLC
Intellinitiative Game Co.
Iron Crown Enterprises
Iron Wind Metals
Irondie
Issaries
Jolly Roger Games
Jon Brazer Enterprises
J-WAY
Kabuki Miniatures
Kenzer + CO
Kheper Games
KMC Sleeves
Konami Digital Entertainment
Koplow
L2 Design Group
Le Montagnard Inc.
Legion Supplies
Legion Wargames
Live Oak Games
Lock N Load Publishing
Lone Wolf Development
Looney Labs
Lost Adept Distractions
Malhavoc Press
Mantic Games
Maow Miniatures
Margaret Weis Productions
Matrix Games
Mattel
Matter Group, LLC
Max Protection
Mayday Games
Mayfair Games
McNeill Designs for Brighter Minds
MERCS
Midnight Syndicate
Mindstorm Labs
Mindtwister USA
MindWare
Miniature Building Authority
Minion Games
MiniWar Gaming
Miskatonic River Press, LLC
Mongoose Publishing
Moosetache Games
MPI Media
Multi-Man Publishing
NBOS Software
NECA
Nerdcore Learning
Nested Egg Gaming Supplies
Nexus Games
Noble Miniatures
Northstar Games
Numbskull Games
Off World Designs
On Military Matters
On the Line
Open Mind Games
Osprey Publishing
Otherworld Creations
Out of the Box
Ovation Productions
Paintier Products, LLC.
Paizo Publishing, LLC
Palladium Books
Paradigim Concepts
Patch Products
Pegasus Hobbies
Pegasus Press
Pelgrane Press
Peryton Publishing
Petroglyoh Games
Phalanx Games
Phipps Gaming Studio
Plaid Hat Games
Playroom Entertainment
Pokemon America
Powerz
Privateer Press
ProFantasy Software
Publisher Services Inc.
Queen Games
Q-Workshop
R & R Games
R&S Marketing
R. Talsorian Games, Inc
Rattrap Productions, LLC
Ravensburger
Real Deal Games
Reality Blurs
Reaper Miniatures
Red Juggernaut
Rio Grande Games
Rubbing Hands Games
Sabol
Salmander Games
Samurai Game Labs
Sands of Time Games
Scimitar Games
SET ENTERPRISES INC
SFR INC.
Shard Studios
Shifting Skies Games
Silrin Games
Silver Fox Productions, Inc.
Simmons Games
Skirmish Publishing
Slugfest Games
Smartzone
Smirk & Dagger
Soda Pop Miniatures
Spartan Games
Spartans Unleashed
Steel Sqwire
Steve Jackson Games
Stronghold Games
Studio 2 Publishing, Inc.
Studio 9 Games
Synelix Games
T.O.G. Entertainment
Tablestar Games
Talisman Studios
Tangent Games
Tasty Minstrel Games
Tayler Corporation
Team Components Inc
Temple Games
Terror Bull Games
The Art of Conversation
The CaBil
The Game Master
The Weekend Farmer Co
Third Eye Games
Thunder Castle
Titanic Games
Toy Vault
Troll Lord Games
Tropical Games
Twilight Creations
Twisted Entertainment
Two Tin Soldiers
Ultra Pro
University Games
Upper Deck
US Games Systems Inc.
USAopoly
VAINGLORIOUS GAMES
Vallejo Paint
Valley Games Inc.
Victim Games
War Torn Worlds
Wargame Factory
Warlord Games
Wattsalpoag
West End Games
White Wolf Publishing
Wiggity Bang Games
Wiggles
Wildfire
Winning Moves
Wizards of the Coast
Word Blur, LLC
WorldWise Imports
Worthington Games
Wyrd Miniatures
XI Media
Xombie
Your Move Games
Zap-a-Gap
Zipwhaa
Ziterdes
Zman Games
Zobmondo Entertainment, LLC
Zombie State Games
Zygote Games